A life of innovation, achievement and adventure
---
Jayne Hancock
Biography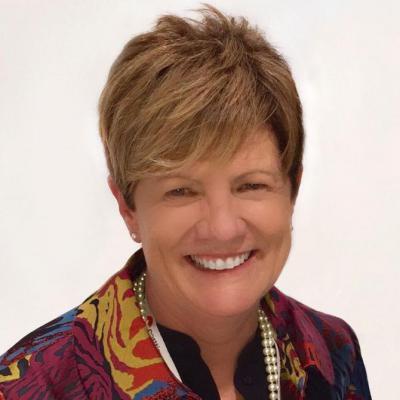 The world has lost one of its brightest stars. Jayne Hancock was a gifted entrepreneur, award-winning business executive, a devoted daughter, sister, partner and friend. She was a serial mentor, collaborator, and problem solver with a passion for excellence and uncompromising commitment to fairness. Jayne was drawn to the challenge and excitement of startups, and she built successful new businesses again and again.
Over the course of 35 years, Jayne built an unparalleled track record in business and consumer marketing, with a distinct passion and unique skill set in sports, media and entertainment. She capped her career as the CEO of Wrigley Media Group, where she was known as the impeccably dressed, indefatigable face of the company. She relentlessly pursued her vision to transform the Kentucky-based video production company into a "team of bold media mavericks who conceive, create, compose and distribute innovative short-form, long-form, any-form content for mass consumption across all platforms" — all in just four short years.
Through key hires, strategic partnerships and the design and construction of a state-of-the-art studio complex in Lexington, Kentucky, Jayne placed Wrigley Media Group on the starting line of a bold new future. Her mission to diversify the company's services by building a robust original content division to complement the established agency-style media production yielded stunning results, including a production partnership with Hollywood star Drew Barrymore's latest romantic comedy project, The Stand-In, where Jayne served as an executive producer. She brokered the deal to make sure the production shot key scenes in Lexington and delivered an unforgettable experience to the community she worked so hard to support.
With Jayne at the helm, Wrigley Media Group developed a reputation for high-end coverage of sporting events, including the production of the Royal Windsor Driving Grand Prix and World Equestrian Games, both of which aired on NBC SPORTS. The company also began producing groundbreaking campaigns featuring dozens of social media micro-assets for clients instead of relying solely on long-form videos. Wrigley Media Group original content expanded into developing and producing new digital television shows such as CampusLore My Town & CampusLore Live college football shows and DIY Weekend Gardens, to name a few. Jayne's projects were soon popping up on the big screen at world-class events like The Breeder's Cup where the overflowing spectators cheered an emotional video developed under her watchful eye. Jayne made continual strides towards her dream of using Media Group's unique capabilities to serve University of Kentucky. As a result of her dedicated efforts, she leaves behind a comprehensive media partnership that will continue long into the future. At the same time, she supported local businesses, educational institutions and charity organizations as well as Kentucky state tourism.
Jayne will be remembered for her uncanny ability to be everywhere at once, as she personally connected with each and every employee within Wrigley Media Group's labyrinth of hallways, ducking from one meeting to another, daring anyone and everyone to "keep up!" Her days were punctuated with power lunches where she would assemble various community leaders, Fortune 500 CEOs and entertainment industry experts for informal think tank sessions. But there was nothing informal about her presentation because her flare for entertaining while delivering inspiring strategic plans knew no rivals.
Driven to bring Wrigley Media Group to the top of the industry, Jayne was known to take meetings in LA and New York — in person and a day apart.
But perhaps Jayne's most lasting legacy will be the employees and contractors she assembled so carefully and mentored so lovingly. She established a corporate culture that supports long-term careers and personal growth. The seeds she planted are now bearing fruit as Wrigley Media Group is positioned to deliver more broadcast content in 2020 than ever before and continues to build a growing media industry based in Kentucky.
Jayne's journey to the top of her field included senior executive positions with DIRECTV, 360 Fly Camera (VOXX International), FanVision and FLO TV (Qualcomm), all startups in the realm of emerging technology. An entrepreneur at heart, Jayne is also the founder and former President/CEO of digital marketing agency JHG, Inc., as well as sports publishing firm Spectator Sports Communications, Inc.
As Vice President of Consumer Marketing/Revenue Enhancement at DIRECTV, Jayne led all business, creative, development and management aspects of the exclusive programming package NFL SUNDAY TICKET, as well as strategy, packaging and marketing for MLB Extra Innings, NHL Center Ice, NBA League Pass and other marquee sports and entertainment packages.
Under Jayne's innovative leadership, DIRECTV negotiated Peyton Manning's first professional endorsement contract. Mr. Manning remains under contract to this day with ATT DIRECTV. She also oversaw the strategy and execution of highly effective sports marketing and promotional campaigns that drove DIRECTV's subscriber growth from launch into the tens of millions of subscribers.
While serving as Qualcomm Vice President and CMO at Qualcomm's FLO TV, she managed a budget of $75 million and led a team of 20 marketing and business development professionals amongst multiple agencies, working on the cutting edge of the nascent mobile entertainment industry. Their work received widespread attention and inarguably became a major influence on the industry as we know it today (i.e. dozens of streaming services to handheld devices). Some of Jayne's more audacious marketing moves included executive producing three 2010 Super Bowl spots in six short weeks of development; negotiating rights to re-record The Who's song "My Generation" working with will.i.am, securing rights to an extensive library of historic images, and finding a unique way to secure a media buy within a sold out program.
Taking that valuable "video to handheld device" experience to the next level, Jayne was recruited by billionaire real estate developer and Miami Dolphins owner Steve Ross to build FanVision. In that role, Jayne doubled customer acquisitions and added agreements with professional sports organizations worldwide, including NASCAR and 15 NFL teams.
Jayne co-founded and was CEO of Spectator Sports Communications, Inc., a publisher of sports programs for San Diego State initially, bringing much needed innovation to the sports program marketplace. Providing real value to customers, Jayne grew the business beyond San Diego State to other universities including USC and the University of New Mexico, and even expanded to professional sports clients like the San Diego Padres.
Early in her career, Jayne served as Associate Athletic Director at San Diego State University where she oversaw 18 Division I sports programs along with marketing, media, advertising and public relations for those programs.
A true testament to Jayne's leadership and commitment to mentoring are the large number of people who worked with Jayne repeatedly over the years.
Jayne is a former Division I student-athlete at the University of Arizona and earned a master's degree in Sports and Business Administration from the University of Southern California.
A Phoenix, Arizona native, Jayne spent most of her professional life in Southern California, before moving to Lexington, Kentucky with her devoted partner Elayne Fowler in 2016. Jayne quickly became a dedicated and respected member of the KY community through her service with UK College of Communication and Information and Women Leading Kentucky. Jayne was also a board member of Brain Box Intelligent Marketing and Active Women's Health Initiative.
Jayne was predeceased by her brother Tom and father Jim. In addition to Elayne, Jayne is survived by her mother Jody, her brother Paul, and Paul's wife Debbie and daughter Christine.
In lieu of flowers, Elayne has requested that a donation be made to the 'Jayne Hancock Memorial Scholarship' that will benefit female students studying sports, media or entertainment at a Kentucky college/university.
Please continue to share your stories of Jayne on MyKeeper
---
Back to Keeper